Application
Applicable Industry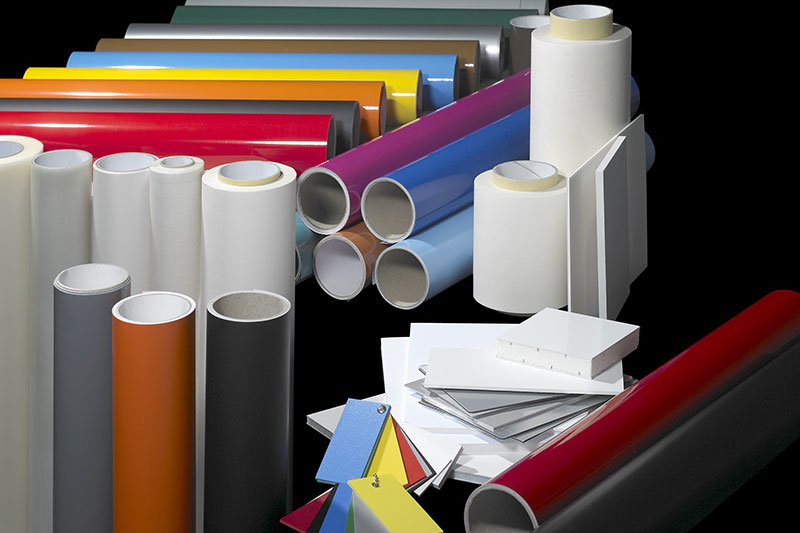 Celadon Tech provide the user a wide range of applications, such as Plotter, Inkjet, Digital & Screen Printing (SAV), Vehicle Wrapping, Marine Adhesive Solution, Architect Material, Sun Light Protection Window Film, Stationery Sparkly Glitter Stickers.
---

Celadon Tech offers the printing industry a reliable and stable quality printing material, no matter it's digital or screen printing. It can compatible with following ink Solvent, Eco-solvent, Latex and UV. We can also offer highly glossy material and save your ink consumption. In the meantime, Celadon also deliver excellent adhesion performance with durable, easy to apply, flexible and no residue features.P.S. User should recalibrate the printer to ensure print quality whenever the material is replaced.

---

---

Plotting is widely used today. We can see this application form signage, handicraft to stone carving industry. However, we can offer a wide range of products and stable quality to meet various lettering needs. To insure your convenience of processing and compatibility.

---

---

Marine application is a tough challenge for adhesion industrial. Since the material must have the ability to against heat, cold, saltwater, string wing and water pressure. It also requires an exquisite processing technology so everything will not go wrong in the sea. Celadon has years of experience about the marine adhesion solution from adhesive transfer tape to material reinforce double coated tape. We have several practical cases in Florida, USA. All yacht deck EVA foam manufacturers order all kinds of maritime tapes from us. We also offer custom mounting solution tape services in a variety of materials, from cotton paper, fabrics, or plastics. All of our maritime products are subject to our strict quality control before leaving the factory. Such as adhesion, shear resistance, water resist and seawater durability. With our experience and quality insurance, we believe we can deliver the most perfect product to customer.

---

---

At high latitudes or in cold regions, the temperature in winter is often very low. Generally, the glue of the acrylic system has no way to resist the low temperature operating environment. However, and hot melt adhesive doesn't resist a hot environment. It's hard to find a universal material to try out all the environments. If there is no low-temperature solution. This is easy to cause the phenomenon of falling off. Our special formulation will pass the laboratory low-temperature adhesion and shear test. Moreover, we also have real cases complete the field test in Germany. Not just an indoor test, but an outdoor automotive test. Consumers can fully believe that our experience, strength, and responsibility can be tested.

---

---

Semiconductor process double coated tape

---

---

Wire harness coverings need to securely bundle harnesses and withstand extreme temperatures and environmental conditions. Products for the engine compartment have to be highly resistant to abrasion, for instance, while in the car interior, tapes are applied to reduce noises.We offer an extensive range of automotive wire harness tape solutions made of woven, non-woven, and film backings combined with high-quality adhesives. They fulfill the international OEM specifications for productive materials.Our innovative solutions offer excellent flexibility for wires so that harnesses can be applied to the car body quickly and flexibly. The solutions also provide weight savings and reduce harness diameters, and are available with customized perforation for most product versions.

---

---

Engraving is the most common design method used to create the lettering and symbols into most headstones. While hammers and chisels were traditionally used for granite engraving, sandblasting has become the preferred engraving method. Engraving is the process or art of cutting designs into a hard surface, like a granite headstone.

---
---
Celadon Tech - A professional manufacturer of precision coating with more than a decade of experience, specialize in Film Coating, Such As, PVC, PET, Paper, Textile...etc.
Located in Taiwan since 2007, Celadon Technology Company Ltd. is a film coating ( PVC, PET, paper, textile) manufacturer. Main products, including Color Vinyl, Laminate Film, Double Coated Tape, Industry Tape, CAD/CAM Film, Car Wrapping Vinyl, Glitter Paper, Adhesive Transfer Tape, Sandblast Resistant Tape, etc.
ISO 9001, 14001 and OHSAS18001 certified film coating supplies with thick coating technology that could coat up to 0.17mm and still maintain its stable, reliable quality. The Partial Control Technology has allowed us to deliver coating solutions to RFID, solar panel, marine and car wrap sectors. As well as vinyl and decorative films for semiconductor industry's CMP pad, heavy duty and extreme condition outdoor sport adhesions.
Celadon Tech has been providing vinyl films, decorative films and industrial tapes to clients, both with advanced technology and 12 years of experience, Celadon Tech ensures each customer's demands are met.
Press Release
New PPF Developing

Cutting Age PPF is Under Development, TPU PPF's performance with reasonable price.

Read More